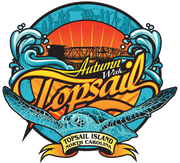 2023 Autumn With Topsail Festival
Get ready to immerse yourself in the enchanting beauty of fall at the Autumn With Topsail Festival. This annual extravaganza, hosted in the picturesque town of Topsail, is a celebration of all things autumn. As the leaves turn golden and the air becomes crisp, join us for a weekend filled with delightful activities, scrumptious treats, and unforgettable moments.
Vibrant Entertainment: From live music that sets the perfect ambiance to captivating performances that will leave you in awe, the Autumn With Topsail Festival boasts a lineup of entertainment that caters to all ages. Feel the rhythm, sway to the beats, and let the music of the season fill your heart.
Artisanal Treasures: Discover unique handcrafted treasures that showcase the talents of local artisans. From intricate jewelry to cozy knitted scarves, the festival's marketplace offers a delightful shopping experience. Find the perfect gift for a loved one or something special for yourself as a memento of your time at Topsail.
Family Fun: This festival is designed with families in mind. Kids can revel in activities like pumpkin painting, face painting, and exciting games that spark their imagination. Build memories together as you navigate through a corn maze or take a hayride that offers stunning views of the autumn landscape.
Culinary Delights: Indulge your taste buds in a variety of fall-inspired culinary creations. From pumpkin-spiced treats that warm your soul to savory delights that satisfy your cravings, the festival's food offerings are a true gastronomic adventure.
Natural Beauty: Nestled by the sea, the Topsail area is known for its breathtaking coastal charm. Take a leisurely stroll along the shoreline, feel the sand between your toes, and enjoy the serenity of the ocean. The combination of autumn colors and coastal scenery creates a backdrop that's nothing short of mesmerizing.
Community Spirit: The Autumn With Topsail Festival isn't just an event; it's a celebration of community. Connect with locals and visitors alike, share stories, and create bonds that transcend the weekend. It's a time to come together and revel in the joys of the season.
Mark your calendars for the Autumn With Topsail Festival, where fall comes alive in a symphony of colors, flavors, and experiences. Join us in embracing the magic of autumn and celebrating the beauty that this season brings. Visit autumnwithtopsail.com to plan your unforgettable weekend getaway!
Oct 20th, 21st, and 22nd, 2023