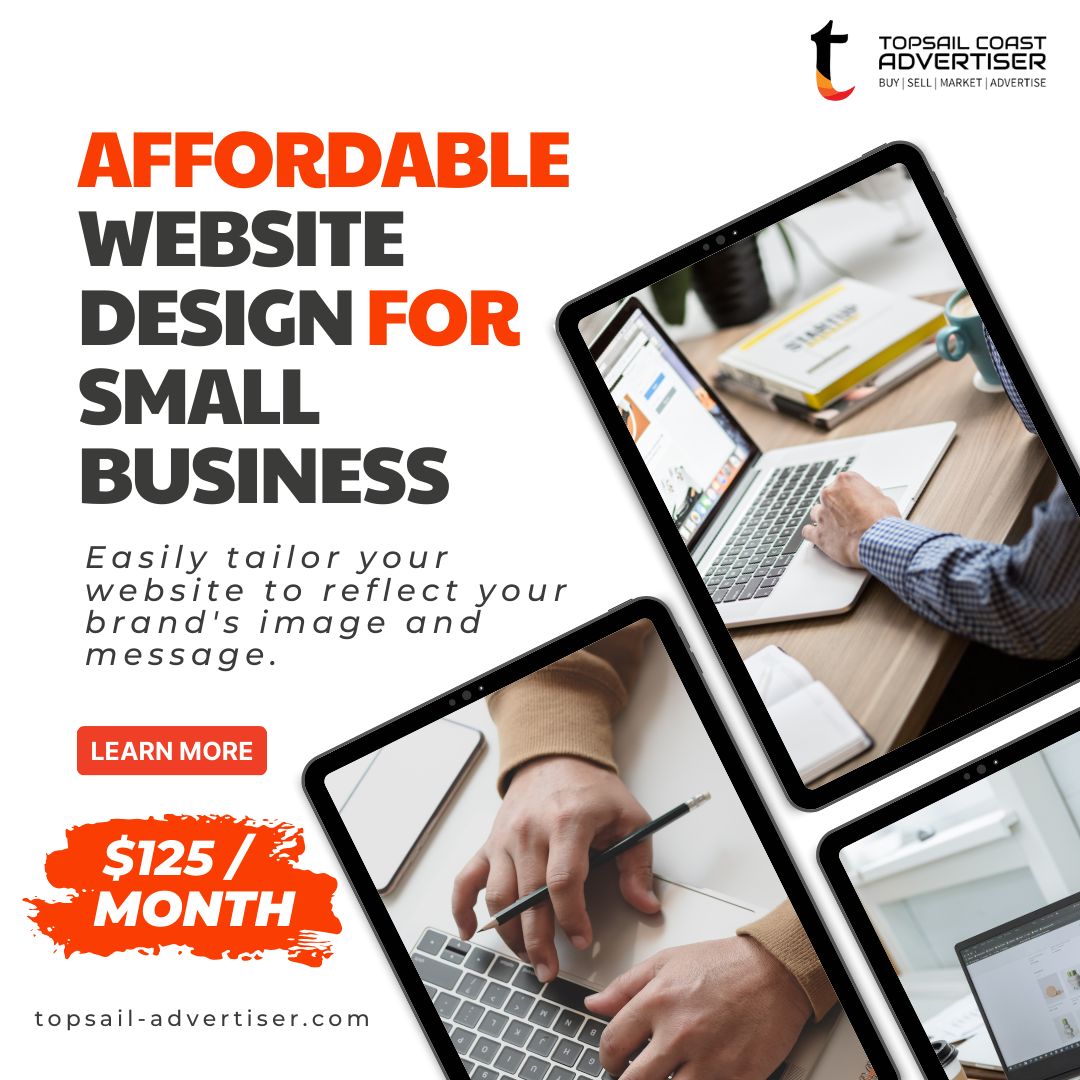 Affordable Web Design
Affordable Web Design that is All Inclusive
Micro and Small Business owners need a web design that enhances their Internet presence that doesn't break the bank! Let us get your business online to give your Facebook and Google searches Authority and Validity!
Revamp Your Online Presence with Topsail Coast Advertiser's Exceptional Web Design Service!
Your website is often the first point of contact between your business and potential customers. What impression is your current website making? If it's time for a digital makeover, look no further than Topsail Coast Advertiser's Web Design Service.
Why Choose Topsail Coast Advertiser's Web Design Service?
Professionalism: Our team of experienced web designers is committed to creating stunning, user-friendly websites that radiate professionalism. Your website will be a true reflection of your brand's values and identity.
User-Centric Design: We prioritize user experience. Our designs are not only visually appealing but also easy to navigate, ensuring visitors can effortlessly find the information they need.
Mobile Responsiveness: In today's mobile-driven world, your website must look and function flawlessly on all devices. Our designs are fully responsive, so you never miss out on potential customers browsing from smartphones or tablets.
Customization: We believe in the power of uniqueness. Your website will be tailor-made to meet your specific business needs, setting you apart from the competition.
SEO-Friendly: We incorporate best practices for search engine optimization into our designs, giving your website a head start in the race to the top of search engine rankings.
What Sets Our Web Design Service Apart:
Strategic Planning: Before we start designing, we'll work closely with you to understand your goals, target audience, and brand identity. This strategic approach ensures your website aligns perfectly with your business objectives.
Visually Captivating: Our designers are artists in their own right. They'll create visually stunning websites that leave a lasting impression on your visitors.
Content Integration: Content is key to any successful website. We'll seamlessly integrate your text, images, and multimedia to engage and inform your audience effectively.
E-commerce Solutions: Need an online store? We offer e-commerce website design that's secure, user-friendly, and optimized for conversions.
Ongoing Support: Our commitment doesn't end with the launch of your website. We provide ongoing support and updates to keep your website running smoothly.
Why Choose Topsail Coast Advertiser?
Topsail Coast Advertiser has a proven track record of delivering exceptional web design services to businesses of all sizes. We understand the importance of a well-designed website in today's digital landscape.
Ready to elevate your online presence? Let Topsail Coast Advertiser's Web Design Service breathe new life into your website. Visit our Web Design Service page to learn more about our process and view our portfolio.
Don't settle for an outdated or subpar website when you can have a captivating and effective online presence. Contact Topsail Coast Advertiser today and let's embark on a journey to transform your website into a powerful marketing tool that drives results!
Topsail Coast Advertiser | Web Design Services | Advertorial Services | Landing Page Service | Website Design | Virtual Assistant Service | Small Business | Micro Business
 #webdesign #websitedesign #topsailisland #hollyridgenc #backlinks #smallbusiness