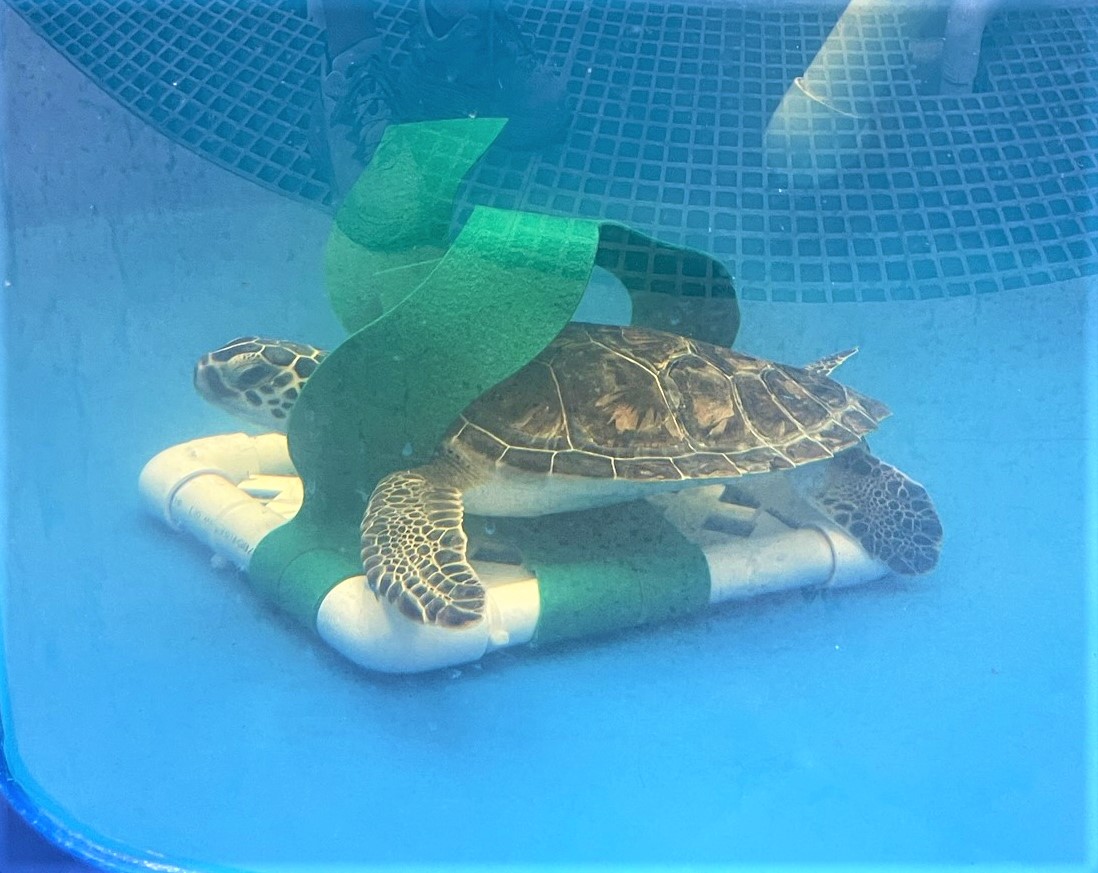 Sea Turtle Hospital News for September 2023
Karen Beasley Sea Turtle Rescue and Rehabilitation Center.
It's been a busy year at our sea turtle hospital, and an especially busy summer. To date in 2023 we've cared for one-hundred-forty-seven sea turtles and have already released one-hundred-ten. It's our second highest year ever in number of sea turtles cared for. And since the waters around here are exceptionally warm any sea turtles still hanging around near shore are not in a hurry to leave. The eating is still good, and the water will take quite a bit of time to start cooling to the point where they pick up on clues that it's time to get out of Dodge.
Topsail Turtle Project volunteers started the season on May 1st slowly but finished up identifying one-hundred-seven nests by the time they hung up their beach walking shoes on August 31st. Although most of the nests have already hatched there are still around thirty still being tended to by our stalwart nest-sitters. This was also our inaugural year for a new piece of equipment, a hydrophone used to detect sounds coming from the nests. Data is under review, and we will continue to evaluate and attempt to correctly interpretate and codify what we're hearing.
This year we hosted eleven senior interns who were with us for eleven weeks. They've turned in some impressive work, completing projects like the amber sea turtle-friendly lighting initiative (and a big thanks to the locals who have signed up to participate) and researching and constructing enrichment devices. If you've been in for a tour you've had a chance to visit the light box to try out the amber lights and to see the "turtle toys" in action. We enjoyed meeting junior interns, a new group of four who rotated in every two weeks to work with our seniors and to assist with "other duties as assigned." Interns give our regular staff a break so we can rest up for whatever this year brings us in the way of cold-stuns.
In July we celebrated our 25th Anniversary with a big gala attended by almost two-hundred supporters. Thanks to everyone, local business, individuals and hospital and beach teams who donated an amazing array of really super stuff for our silent and live auctions. And big old loggerhead flipper hugs to Dr. Dante Martin DVM who wrote a very healthy check for Snooki's new tank during our fund-a-cause event. Twenty-five years in the turtle business: from a backyard tent to a little two-car garage in Topsail Beach to our fourteen- thousand square foot facility here in Surf City. Everybody should give themselves a big pat on the back.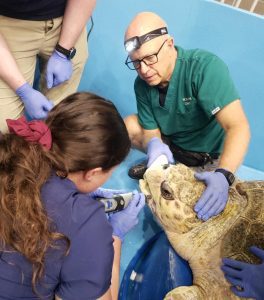 Taking care of sea turtles is a labor of love, but they do have to eat, have clean, correctly salinated water and medications, scans and surgeries. The costs add up and our work is possible only because of your financial support. There was not one day over the summer when our tours were not sold out, and our adoption desk and gift shop were always hopping. Thank you for your generous and continuing support.
And speaking of support, the third annual Surf to Sound 5K for the benefit of our hospital will be held on Saturday, September 16th. The event is open to all levels of runners and walkers, and you can participate in person or virtually. Sign up at their website: https://runsignup.com/Race/NC/SurfCity/SurftoSound5K. We'll be there.
We've moved to our fall tour days and hours, and we still have patients waiting for your visit. There are major renovations scheduled for late fall, so be sure to buy your tickets soon on our website: www.seaturtlehospital.org before we close. Our hospital matriarch "Snooki" recently had her annual exam and a little work done on her beak by Dr. Harms and his Vet Student Clinical Rotation class and is enthusiastically waiting to show off her new smile. And her new fifteen-foot tank is on order for installation during renovations.
Please keep an eye out for any sea turtle activity on the beaches or in the water. As the nests continue to hatch it's possible you'll find a hatchling that's gone astray. Carefully pick it up and put it in a small container with some sand and a very small amount of water – barely cover the flippers. With this extreme heat it's important that the little critter does not bake in the sun for hours. Then call our Director of Beach Operations, Terry Meyer at: 910-470-2880. Calls to her number after hours will automatically be forwarded to her for action. You may also call the hospital during operating hours: 910-329-0222. We will take the information and one of our area coordinators will meet you to retrieve the hatchling and refer it to us for follow-up. Terry is also the contact for any sick, injured or pier-hooked turtle. The State of NC turtle hotline for strandings picks up 24/7 at 252-241-7367. Remember that interfering with or harassing federally protected sea turtles in any way makes you subject to steep fines and possible imprisonment. Our work with sea turtles, at the hospital and on the beach, is authorized by the NC Wildlife Resources Commission, ES Permit 23ST05.
For more information visit the Karen Beasley Sea Turtle Rescue and Rehabilitation Center at https://www.seaturtlehospital.org.
Topsail Coast Advertiser is proud to post content from The Karen Beasley Sea Turtle Rescue and Rehabilitation Center in our blog under the category Sea Turtle Hospital News.